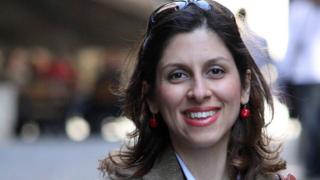 A British-Iranian woman jailed for five years in Tehran has been given a health assessment to see if she is well enough to stay in prison, her supporters say.
Nazanin Zaghari-Ratcliffe was accused of spying while visiting Iran with her daughter last April, which she denies.
A local health official was told she had panic attacks, insomnia, bouts of depression and suicidal thoughts.
Iranian media say the symptoms will be considered and "conditional release" could be given if she "qualifies".
The health commissioner is due to present his judgment on whether Ms Zaghari-Ratcliffe, 38, from London, is fit to remain in jail later this week.
But she is due to appear in court on 10 December on a second charge of "spreading propaganda".
The Free Nazanin Campaign said she is instructing her lawyer to challenge the legality of the ongoing "campaign" against her, "given its impact both on her chances of a fair trial and her health".
The full details of the new allegations have not been made public but they came after UK Foreign Secretary Boris Johnson wrongly stated earlier this month Ms Zaghari-Ratcliffe had been training journalists.
Mr Johnson later acknowledged his comments were inaccurate and her husband, Richard, raised the issue of his wife being given diplomatic protection in a subsequent meeting.
The protection would signal that the UK is treating the case as a formal, legal dispute between the UK and Iran. The Foreign Office said its lawyers were discussing the issue.
Ms Zaghari-Ratcliffe's daughter, Gabriella, had her passport confiscated and is being taken care of by relatives in Tehran.